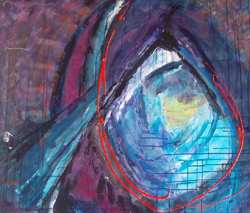 Education Academy of art Turnhout: (B) : section: letters and figurpainting.
Education Academy of art Turnhout (B) : plastic Art 1973 Private lessons at Hasselt (B) by Paule Nolens : aquarelpainting .
Education academy of art Aarschot (B).
Education academie of art Hasselt (B)
Lessons Herentals (B) by Bert Bulckens.
Private lessons Turnhout (B) by Piet van Mechelen: landscapes and
Education academy Arendonk (B) painting with different techniques .
Specialised nude models acrylpaintings by Jef Gijsen.
Education monumental art.(B)
Friesland private lessons by Paul Jaarsma. (technique Old masters).(The Netherlands).
Free lessons nude models. Ranst- Antwerp (Belgium
2008- 2009
2008- 2009 Intuitive Painting
with gouache in
HUIS VOOR DIALOOG EN HERBRONNING
"
De lichtbron
" te Wijnegem Antwerp (B)
Mostly, I 'll be guided by my emotions, by the impressions of the moment, the events of my daily live, sometimes at my close surroundings, and another time from the far distance, or even from another part of the world. By the many impressions I experience, I attempt to get it organised to put them intuitively and purely on canvas, with the possibilities at hand a lot of colors, appear before me, intuitive, spontaneous, from the subconscious.
At the moment, when the terrible event of 9/11, I couldn't do anything but putting my emotions on canvas. All the rest seems so far away.
Sometimes art can be very confrontational or even shocking. Still, I don 't want to forget all the good and beautiful things life and nature are made of. In the mirror of nature small things can expand until it's a universe on itself.